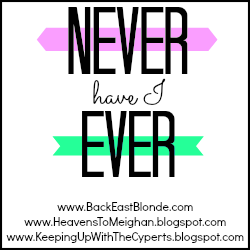 This morning I read a great post by my new blogging friend Stacey over at
Likes to Smile Blog
that was a list of "Never Have I Evers." Her post is part of a linkup by the lovely ladies of
Back East Blond
,
Heavens to Meighan
and
Keeping Up With the Cyperts
. I've never participated in a linkup before and I thought this one sounded like fun. You know, if I could come up with some PG rated experiences. The last time I played this game included lots of alcohol and no ring on my finger. My how times have changed. Here are 8 things you probably didn't know about me.
Watched an episode if American Idol. Sorry folks, I just don't see the appeal. Plus, Ryan Seacrest drives me bananas.
Liked watermelon. I try it at least once a year just to see if I change my mind. Something about the texture just doesn't do it for me.
Gotten a ticket. I have been pulled over 3 times and somehow weaseled by way out of getting a tickets. Most memorable would be the time the officer asked me if I knew why he pulled me over and I told him honestly that I didn't. He said I made an illegal U-turn and I pointed out the sign actually stated "no left turn." Mr. Police Man next asked me out may left turns make up a U-turn. Smart as I am I said "two". This is about when he started to doubt himself and decided not to give me a ticket. To this day I'm still not entirely sure the legality of the situation.
Seen The Notebook. I know. I have scolded for this before. Everyone I have ever talked to bawled their eyes out during this movie. Why would I inflict this upon myself?
Dyed my hair. Here is a fun activity--Picture me with blond hair. Worst idea ever. I have thought about getting highlights but I'm way too cheap to keep up with that. I will be a brunette for life.
Actually liked beer. This didn't stop me from drinking it like water in college. I drank a lot of microbrews when I moved to Portland (we have one on almost every corner. Likely next to a thai food place) but I decided to finally be honest with myself. Wine, cider and Lillet for this girl!
Worked the same job or lived in the same residence for longer than a year and a half since 2000. Hoping to fix that in 2013-14. Time to enjoy what I have.
Enjoyed running. Many years of ballet left me with a mild case of duck-feet (pointed outwards). Ducks don't run. Trust me.
Well that was fun. Not sure I have ever play this game sober before! What about you? What have you never done?